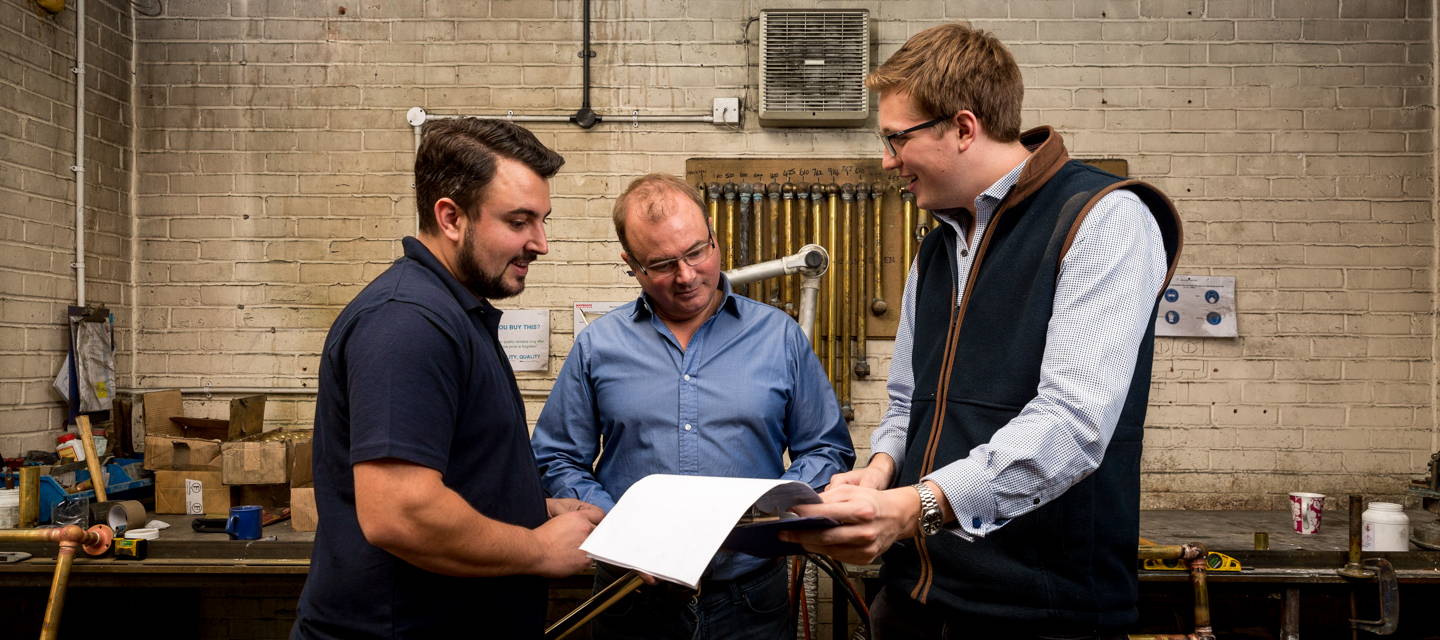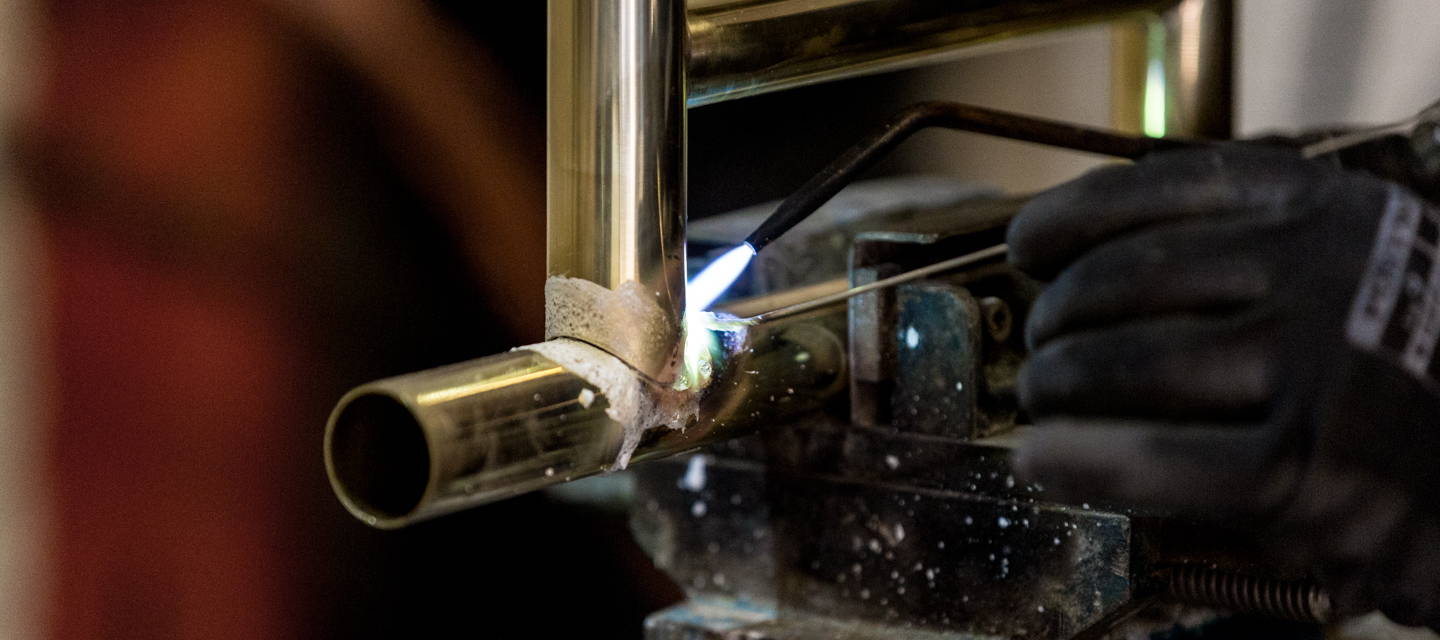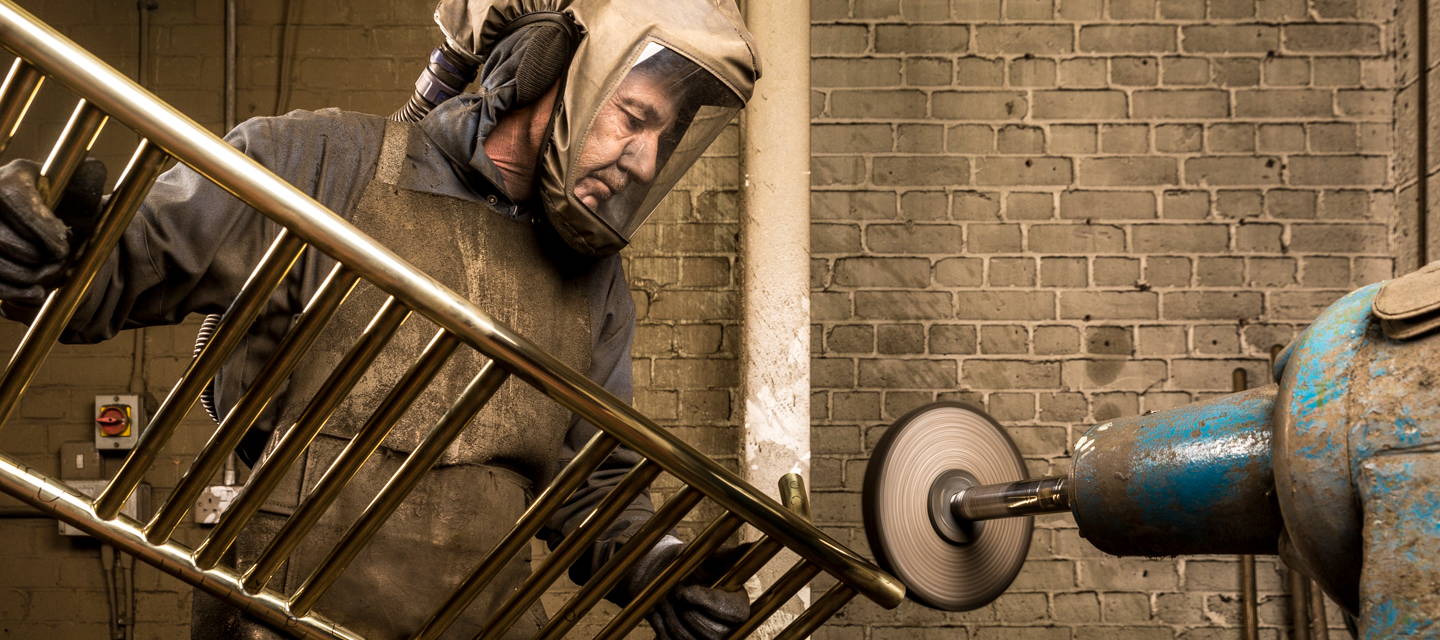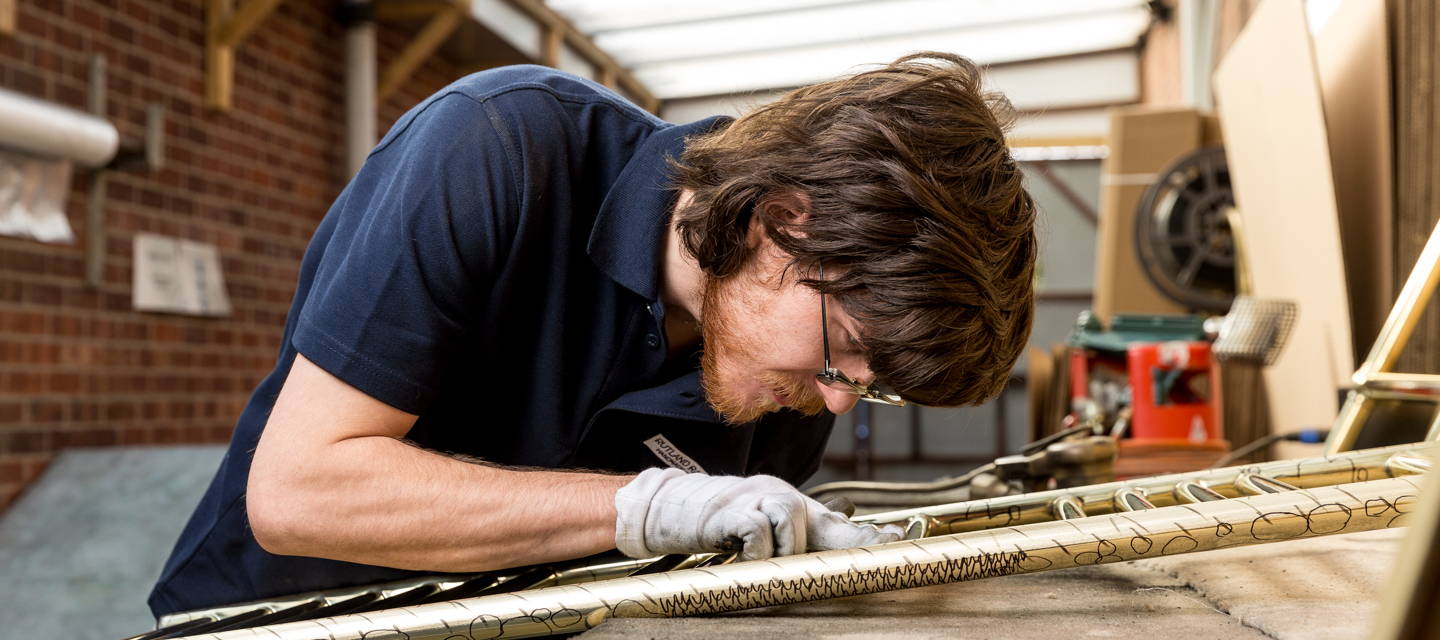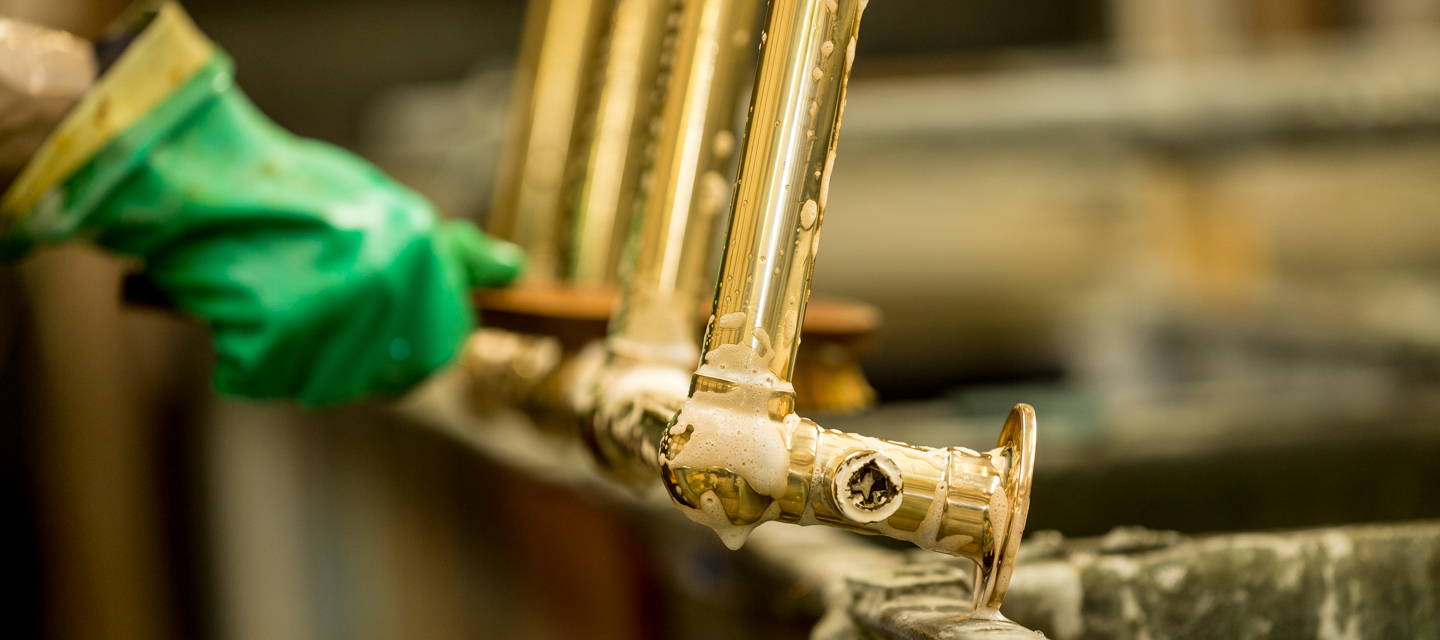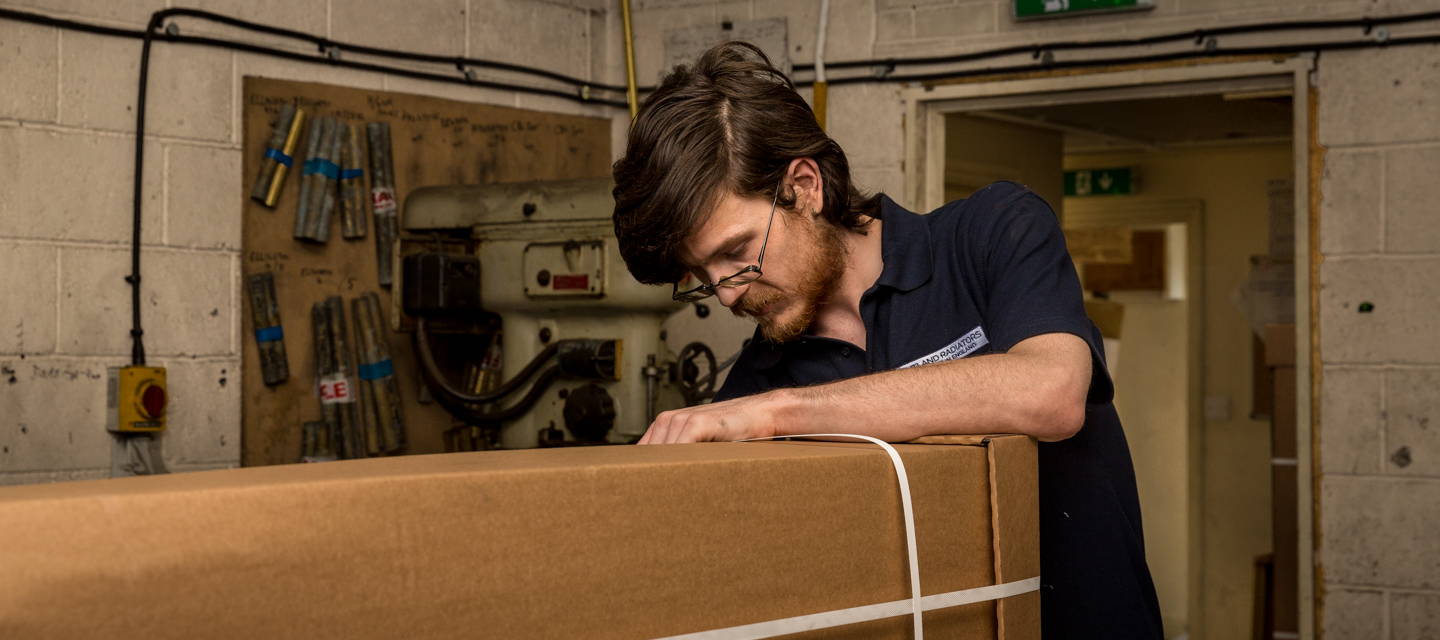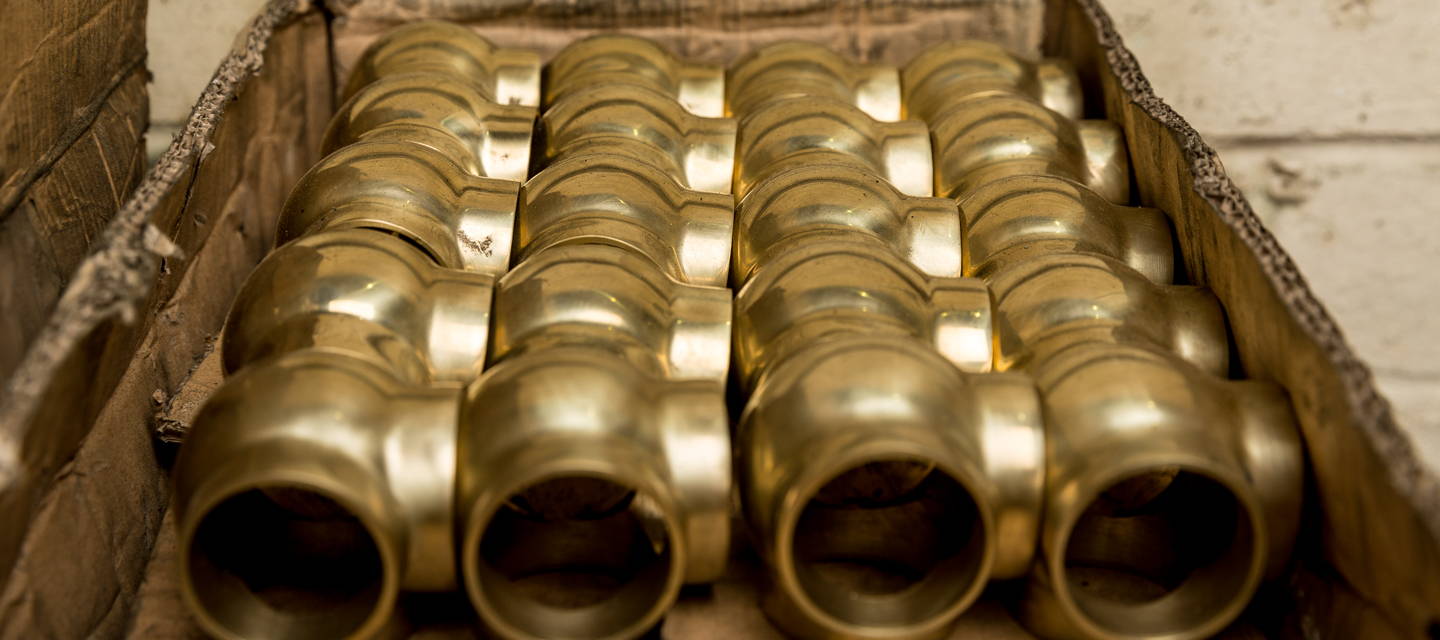 At Rutland Radiators, our handmade towel warmers, radiators and vanity basin stands are all manufactured to order. This means that if a customer would like to make a variation to a standard design, or use our bespoke in-house design service, we are able to adjust our manufacturing process accordingly.
To produce a product successfully it is imperative that our Design Team and craftsmen work very closely together. Care is taken by all members of the Manufacturing Team to ensure we deliver exactly as specified by the customer.
Once a design is finalised, our experienced braziers begin fabrication of the towel rail or vanity basin stand. By brazing our German produced DZR Brass tubing with Italian ball joints (or by mitring the tubing), our craftsmen construct the body of the towel warmer, radiator or vanity basin stand.
The brazing process requires a high level of skill and a steady hand to achieve a good quality joint, which is why our braziers have been practicing their skill for many years.
Polishing is a part of the process which can be very challenging, but is key to the success of an item. Our skilled colleagues use a combination of hand and machine polishing to achieve our desired appearance. They take extreme care to not over-polish the piece as if they do, it could damage the shape of the DZR Brass tubing impacting the overall appearance.
This is possibly one of the most important parts of the process. Our skilled technicians carefully examine each item, marking any imperfections which need correcting in the polishing shop.
In addition, each heated towel rail and radiator is pressure tested to a pressure of 8 Bar. Far higher than will ever be found in a domestic environment, but we like to be certain!
Our in-house Plating and Finish Team are able to apply any of our range of over 20 finishes to our towel warmers, vanity basin stands, shower curtain rails and grab bars. We are fortunate to have use of some of the largest plating tanks in the South of England. As a result, we are able to achieve the high standard of finish our clients expect. This standard of finishing is part of the reason why customers come to us from across the world.
Once plated, the finished product is handed back to our quality control department to check again and ensure that the product is faultless. Our experienced packaging team then carefully create bespoke packaging to ensure the products safety during shipping. Finally, our carefully chosen couriers collect the product for delivery to our customer.
---
---
Interested?
If you are looking for a handmade heated towel rail, radiator or basin stand, or shower curtain rail please do not hesitate to call our friendly office team on 01252 790464 or alternatively email, sales@rutland-radiators.co.uk